Shopping Cart
Your Cart is Empty
There was an error with PayPal
Click here to try again
Thank you for your business!
You should be receiving an order confirmation from Paypal shortly.
Exit Shopping Cart
| | |
| --- | --- |
| Posted on April 1, 2019 at 12:35 PM | |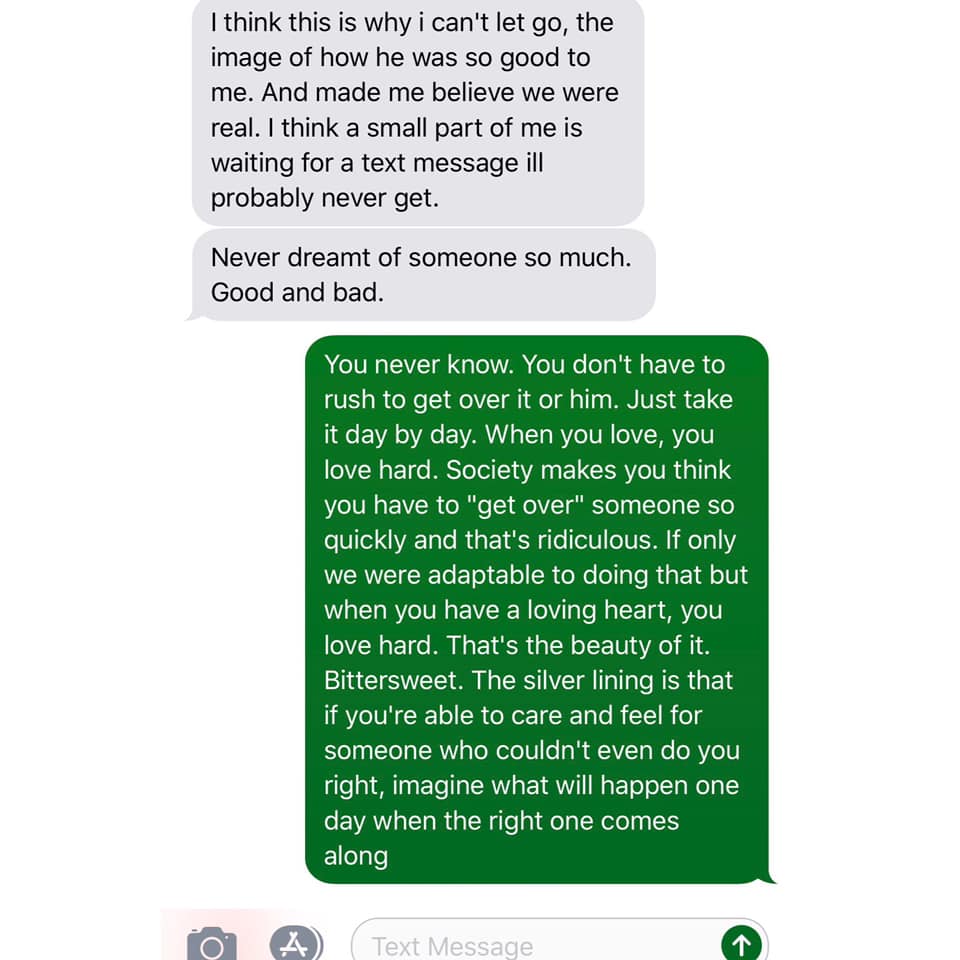 Breakups suck. There are so many damn rules to follow after. "Don't try to remain friends." "Don't initiate contact with your ex." "Don't try to change their mind, beg, plead or cry in front of them." There are so many rules that are not easy to follow for multiple reasons. 1) Anxiety. If you have anxiety or get anxious, you know how difficult it is to just sit and pretend you're okay. Waiting, no answer, silence- they are moments where our mind fills with thoughts that drain our wellbeing. 2.) You didn't get an answer. This is probably one of the worst endings. Not getting a real answer as to why things needed to end. You spend each day replaying memories, the past, trying to figure out a moment in time when things went wrong. 3.) Blame. We sometimes take the silence as a reason to blame ourselves. What could we have done differently? Did we love too hard? Did we believe something was there and it wasn't? Did we imagine it? No. You didn't. You felt love. You were told it was love. Wrapping your mind around something that doesn't make sense is so exhausting and the truth is, we may sometimes never get the answer and maybe we will. Maybe we won't care in the future. Actually, you won't. That's the one truth I know. You won't care because eventually things will make sense. Things WILL come full circle and things will no longer confuse you. Maybe it's because you've moved on, got your answer, or maybe you find something more worthy of pursuing.... and that's you. Your heart, your needs, your wants. My dear, take time to heal and don't put a stopwatch on when that is. Time will tell. One day, when you've stopped counting how many days, weeks,months it's been since the breakup, when you last spoke, the last text, the last time you saw each other... you'll just feel different. You'll be a new you. Someone that no longer cares for the answers because they wouldn't have changed the outcome of what happened and that was just the heartbreak of one chapter of your life. You have so many more pages to turn and you'll see that. Just hang in there for now and feel what you need to. The sadness, hate, confusion.. it's all part of the healing. So, heal.
 
 
Categories: Getting Through A Breakup., Coming From The Heart, Makes You Wonder
/