Shopping Cart
Your Cart is Empty
There was an error with PayPal
Click here to try again
Thank you for your business!
You should be receiving an order confirmation from Paypal shortly.
Exit Shopping Cart
Jay Shetty once wrote, "Everyone has a different clock, so wait for your time." I couldn't agree more. I've found we live in an era where social media allows us to compare our journey with another. It allows us to become envious, sad, worried, and fearful of things that don't exist. It causes us to believe that we are behind on our goals. Destiny has its own time. Don't compare your timeline-literally, with another persons. Their timeline might look a little different than yours, and that's okay. Find pride in your current status while working and striving more. Be happy for others. Compare less. Work hard every single day to get closer to where you want to be and above all, be grateful. More energy on the journey and less on the destination, my dear. Your time, whatever you're wishing, praying, and working for will come in due time. Never let success get to your head. Never let failure get to your heart. The best view always comes after the hardest climb, my dear. ⛰ #trusttheprocess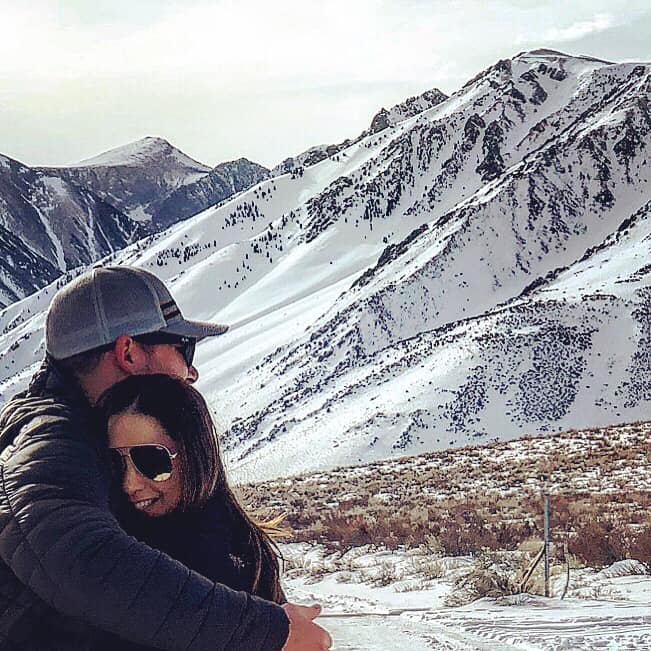 I received an email from a follower who's struggling with moving pass a situation that broke her heart a few months ago. I think many struggle with leaving a toxic relationship because they're trying to justify the reasonings of shitty behavior. You won't find the reasoning there, my dear. It's like trying to find love where you lost it. The simple truth is that shitty people do shitty things. There is not much more to it than that. The only way to move on from a hurtful situation without bitterness and anger is to understand why you felt what you did and why you no longer want to feel that way again. Forgive them for their actions, but don't forget. Take a long look in the mirror and remember who you are and why you deserve more. My suggestion is to write a list of reminders next to your mirror as to why you deserve to feel loved and to read it often. Perhaps, daily. Have you ever loved someone so deeply you'd do anything for them? Yeah, well make that person yourself and leave that dead-end relationship where it belongs- in the past.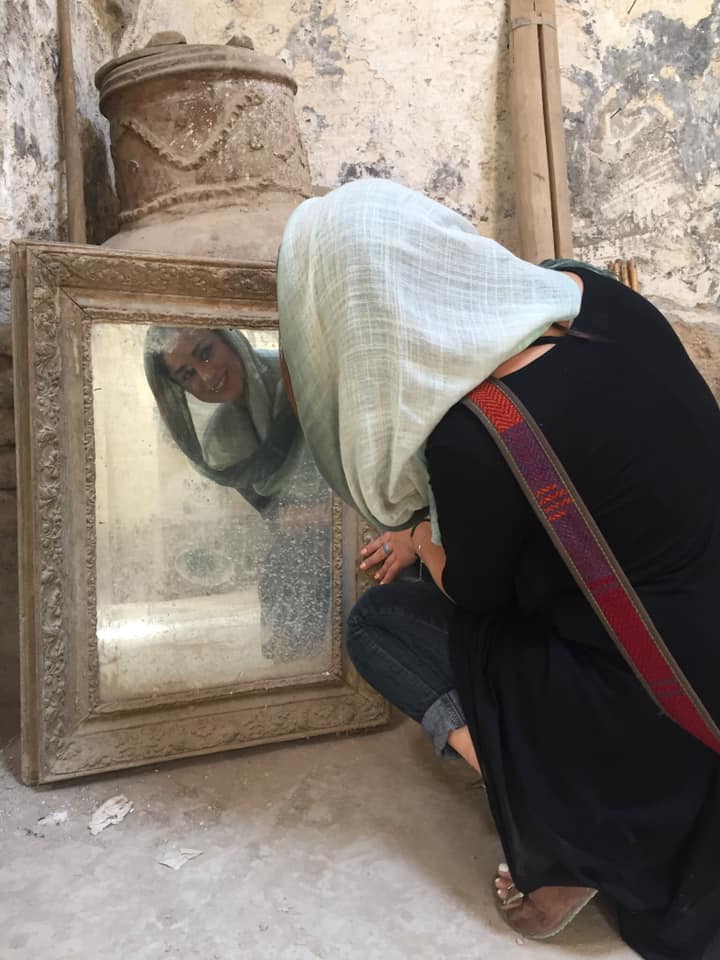 We visited this very tree almost 2 years ago. It was right after I drove him to a park where I shared with him what I needed in order for us to pursue a relationship. He and I both talk about that day when needed. Like last night, when I was closed off and not communicating my emotions. Though I told him that day almost 2 years ago that I need him to communicate with me, I didn't realize that it was going to be hard for me. You see, I knew what I needed... because it's what I didn't have. But, what tends to happen is we sometimes repeat patterns of our past because it's what we have learned. For example, I used to be shut off and ignored when expressing my feelings. That taught me to pick my battles and avoid conflict. But, what I am reminded of often is that he, is different. Ironically, in his past relationships, he was the one closing off, not communicating.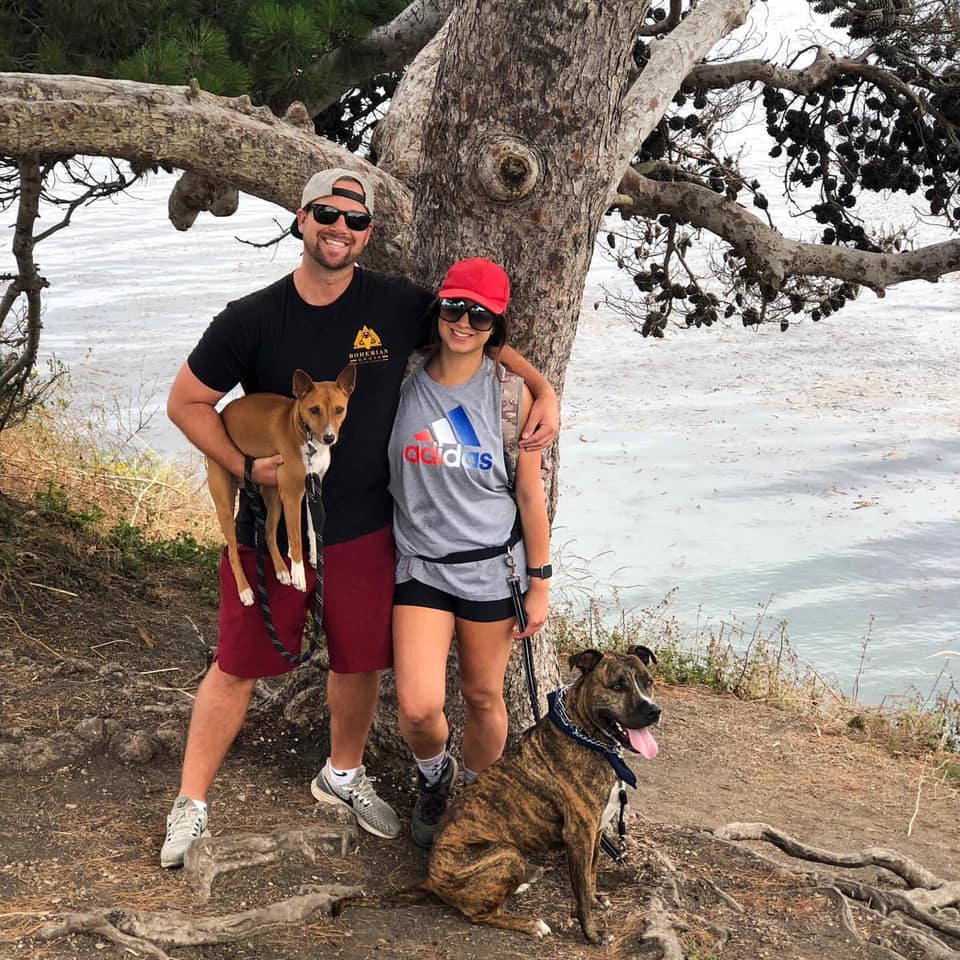 Mostly because he wanted to avoid confrontation. That's why I appreciate him 10x more when he surprises me and comes to me, asks me what's wrong, and listens. He doesn't run when I'm moody, being short or cold. He seeks to understand, comfort and be there. That has made all the difference, having someone that CARES enough to want to nurture my heart and be my confidant. Effort goes both ways and it requires work. When one person is trying more than the other, things get unbalanced. So, communicate and communicate often. Never stop seeking to understand how to love your partner how they need you to. Know their love language and then keep maximizing the ways you can love them. 
Life is a series of events working for you. That's right... working for you. I know you may not feel that way right now or even think it, but try. For a long time, I played the victim to the things "happening to me." Oh, yes. I allowed my happiness, well-being, mood, etc. to be based on one incident in my life. Realizing years later, that very incident I made so big, is now so little compared to who I am and where I am headed. When we're in a rut, it's normal to feel low, unhappy and unsatisfied. It's easy to want to fix what we know than to try to attain something better for us. How you respond to events in your life will create a chemical response that affects food digestion, how you sleep, how you think, and how you feel about yourself.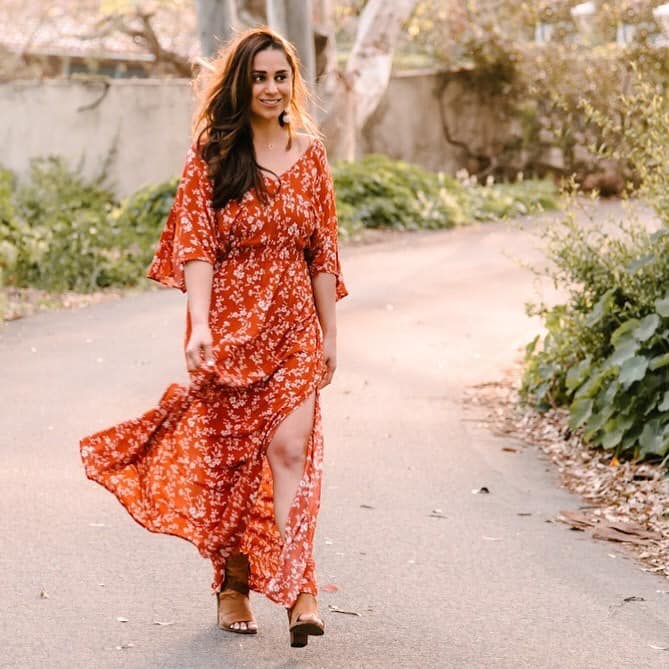 Sometimes this blockage traps good things from entering. As many of you may know, I walked alone for four years after being in a relationship for four years. That path alone after only knowing one way to be are now some of the best four years I can look back at. At that time, the path was rocky, the water choppy, and me, a mess. But today, I'm so damn proud of that girl who walked through the fire and came out 100x the woman she was and today, I love that girl. I feel for that girl. If I think long enough of that girl, I ache for her. Because she didn't know then what I'm telling you now which is that whatever you're going through today, you're going to be more than okay. You are fire, my dear and fire doesn't let anything standing in its way bring them down. Keep going... keep believing in something greater than you and have faith, because you're damn right you are worth it.
I once read somewhere, "Yeah, you're attractive, but are you good for my mental health?"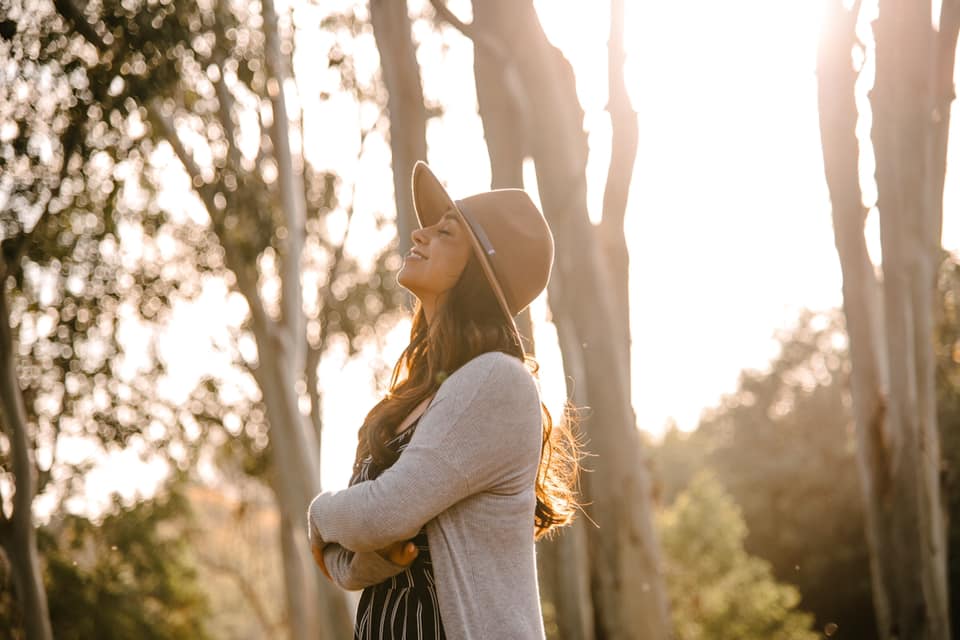 That resonated with me because it is difficult to see toxicity in your life until you step back and remove yourself from the space, environment, person, or feeling causing it.
 
I recently sat down to reflect with a follower on her journey and where she's been. She has been single for some time now and she feels that she has become so independent, fearing letting her walls down again- that she will never know true love. I disagreed, because I was once her.
 
I was once the woman who was unphased by words, gifts, and any form of expression that symbolized someone was interested in me. The greatest memory I have of when this occurred was roughly 3-4 years ago when I was surprised at work with a Valentine surprise- chocolate covered strawberries. Nothing. It did nothing for me. In fact, I gave them away to my colleagues and trashed the card that came with it.
 
That's not what I was looking for and not what I wanted nor needed. After realizing I had pushed myself into a place where I could care less to find love is the moment where I found it. That's right- I found a stronger, greater, and more than necessary kind of love when I was least expecting it.
 
This self-love was something I never knew, but it was the kind of love no one or no thing could ever bring me. That same self-love lead me to meeting my boyfriend, Steven. When our paths crossed in 2017, I was in a place that I had never been in before and that was knowing who I was, what I wanted, and more importantly, what my soul needed.
 
That's the thing about giving yourself time to heal, time to grow, time to feel. You connect with your spirit and soul and realize that not all things entering it will fuel it, so be picky. The reality is that you'll never really see how toxic someone is until you breathe fresher air. You're beautiful, my dear. Allow yourself to heal... whatever that looks like for you.
DON'T LET THE HEART THAT DIDN'T LOVE YOU, KEEP YOU FROM THE ONE THAT WILL.
Very often, I receive messages from followers that somehow end with, "I am never going to love again." This is typically a sentence followed by a long explanation of heartbreak, defeat and unfortunately, sadness. I always feel sad reading these, because I know what it feels like. That stinging pain associated with having your heart broken. You can't eat, can't sleep, and just don't know what to do to make it go away. I've found that the pain is inevitable and the more you try to stop yourself from feeling the pain, the more it appears. Numbing from substance abuse (binge drinking, smoking, rebounding) only "helps" a bit until you're confronted with the pain again. I think the only thing that helped me when I was in this pain was letting go and accepting that this is going to suck for a while, but not forever. Accepting that I won't truly know when the pain will "stop." Actually, you don't really realize that moment in time. You don't recall the day, the place, or the point in time that it does. You just wake up one day and realize, "Whoa, I'm not sure when this happened or how, but I'm ok. I'm not great, but I'm starting to feel like me again." That's the aha moment we all so desperately seek and want and when it occurs, it feels so damn good because being lost from your soul is confusing, scary and painful as it is. But the beauty is you'll find a new you eventually. You won't come out the same. You'll come back better, stronger, wiser. More aware of what you want and need so that one day, the right one will be there for you and everything that occurred up till that point won't result in sadness... instead, you'll feel thankful for the pain because it brought you to this.
 
Trust the journey, my dear. It'll come full-circle in due time. You got this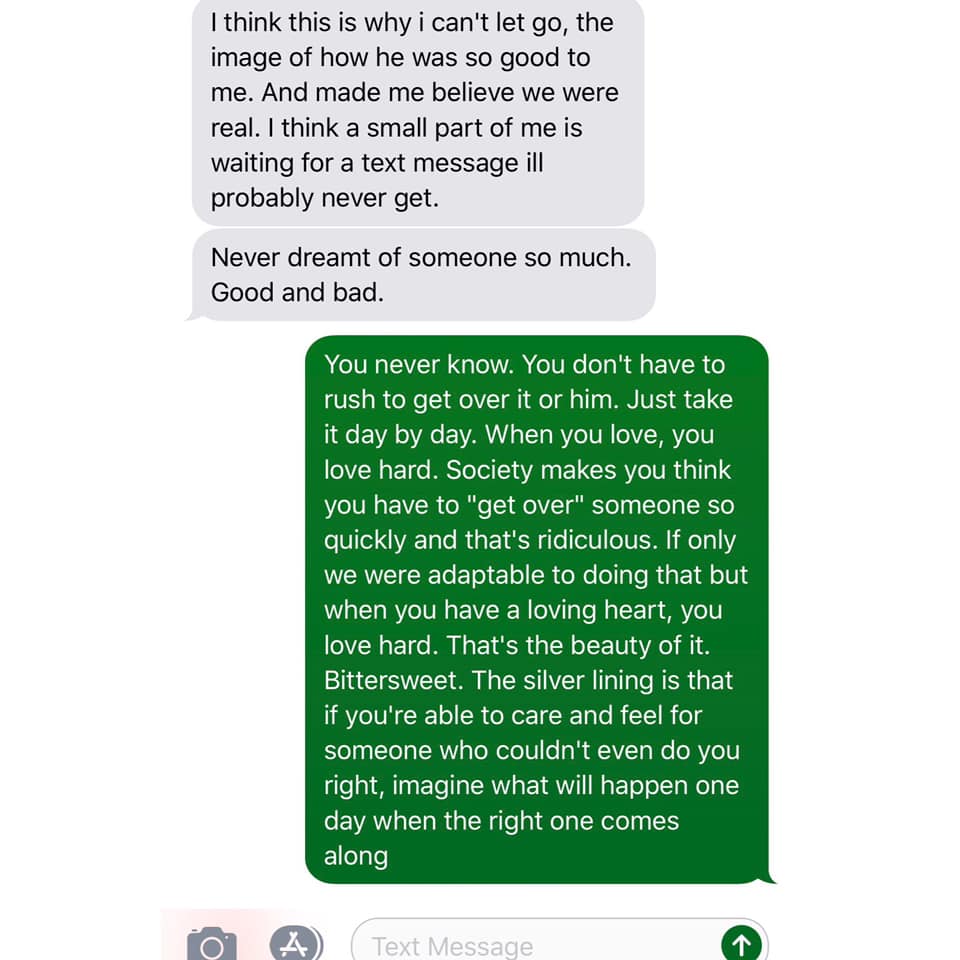 Breakups suck. There are so many damn rules to follow after. "Don't try to remain friends." "Don't initiate contact with your ex." "Don't try to change their mind, beg, plead or cry in front of them." There are so many rules that are not easy to follow for multiple reasons. 1) Anxiety. If you have anxiety or get anxious, you know how difficult it is to just sit and pretend you're okay. Waiting, no answer, silence- they are moments where our mind fills with thoughts that drain our wellbeing. 2.) You didn't get an answer. This is probably one of the worst endings. Not getting a real answer as to why things needed to end. You spend each day replaying memories, the past, trying to figure out a moment in time when things went wrong. 3.) Blame. We sometimes take the silence as a reason to blame ourselves. What could we have done differently? Did we love too hard? Did we believe something was there and it wasn't? Did we imagine it? No. You didn't. You felt love. You were told it was love. Wrapping your mind around something that doesn't make sense is so exhausting and the truth is, we may sometimes never get the answer and maybe we will. Maybe we won't care in the future. Actually, you won't. That's the one truth I know. You won't care because eventually things will make sense. Things WILL come full circle and things will no longer confuse you. Maybe it's because you've moved on, got your answer, or maybe you find something more worthy of pursuing.... and that's you. Your heart, your needs, your wants. My dear, take time to heal and don't put a stopwatch on when that is. Time will tell. One day, when you've stopped counting how many days, weeks,months it's been since the breakup, when you last spoke, the last text, the last time you saw each other... you'll just feel different. You'll be a new you. Someone that no longer cares for the answers because they wouldn't have changed the outcome of what happened and that was just the heartbreak of one chapter of your life. You have so many more pages to turn and you'll see that. Just hang in there for now and feel what you need to. The sadness, hate, confusion.. it's all part of the healing. So, heal.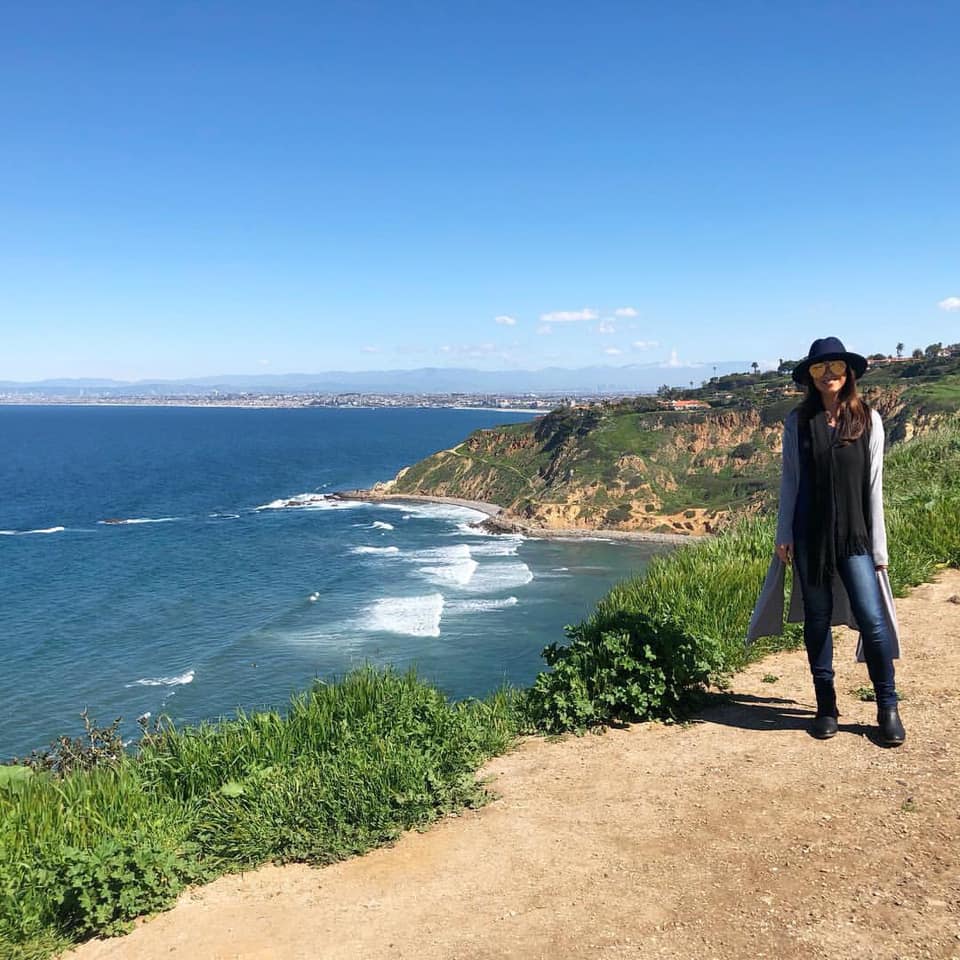 I received an email last week from a follower who was having trouble dating. Her problem wasn't that she couldn't find anyone, but that for the life of her, she couldn't let people in. After exchanging a few emails, I realized what could possibly be the "problem." She had her guard up. She'd been hurt before and after knowing what it felt like to be broken before, she was always careful to avoid coming close to it again. Instead of taking chances and risking drowning in love, she chose to stay near the shore... where the tides are low, "safe," and she can feel the sand beneath her feet. I think that it's easy to stay close to what we know and that's why we tend to repeat our mistakes, no matter how we much try to avoid them. It's easier to play with what we know than to explore something new. She felt worried that she may have lost out on good people because of her fear of getting hurt. I could tell she may have been close to loving again before, but something always led her to slip it like grains of sand through her hands. I think it's okay to be a careful person, but not at the expense of growing. Heartache, experience, and lessons are merely stepping stones that shape us to who we are to become. A comfort zone is a beautiful place, but nothing grows from there. You grow most in the times that you feel the least amount of comfort. Swim away from the shore, my dear. The world is out there and it's big and it's unpredictable, but life is beautiful and worth you trying again. Always give love a chance to win. #comfort #therapy #water
I recently had an old friend and follower reach out to me in hopes of being heard regarding his current relationship which is long distance. For those of you who've been following me for several years, you'd know that I've been in a long distance relationship and were apart for a year. While I'm no expert when it comes to love, relationships and how to handle breakups- I can offer you my advice based on personal experiences and the experiences of my friends. From my own personal experience, I'd say that long distance is very, very hard. It's the truth. It's difficult to share experiences physically with someone when they cannot be there, but what's harder is if there is no trust. What tends to happen is the person who's away often begins to question you- out of natural fear. This tends to cause a shift in the dynamic of power between two people. When one person begins to feel a lack of equality in the relationship, a push-pull dynamic begins. This continues and continues until neither can no longer handle it. That's the truth. I truly feel the only way this can be avoided is CLEAR communication prior to being apart of your goals in the relationship, the long term plan and an overall idea of what both partners need to feel good moving forward. Communication is essential but not only when apart... before. This important step is often forgotten and the excitement of loving one another is not enough to sustain the emotions of jealousy, fear, and not being able to relate when finally apart.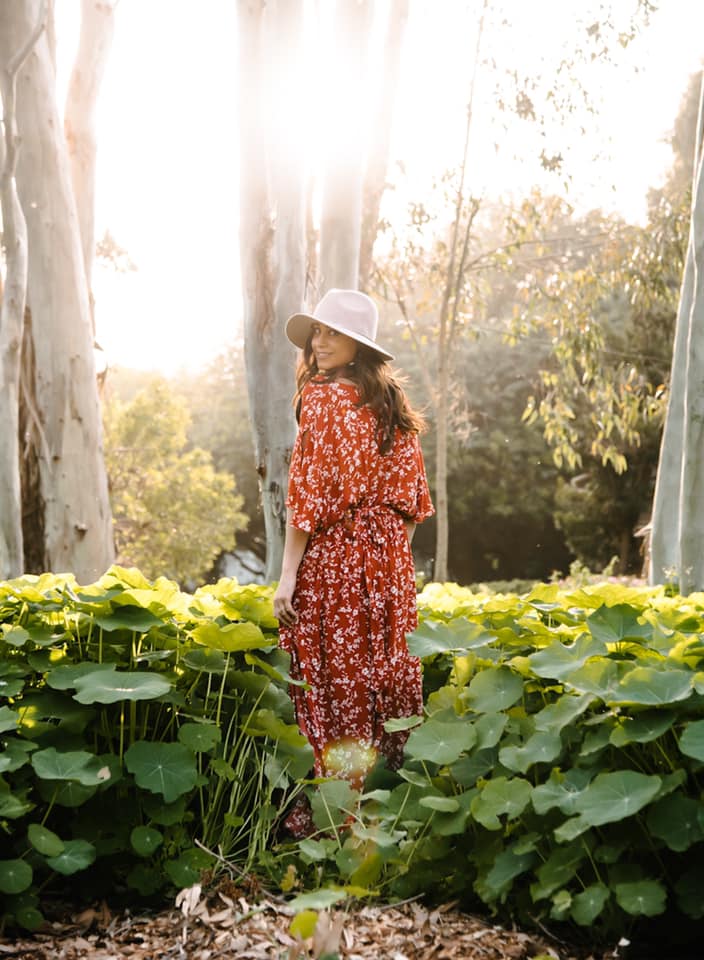 They say that, "Life has many ways of testing a person's will, either by having NOTHING happen at all or by having EVERYTHING happen all at once." It's true; you don't know how strong you are till being strong is your only option. Unfortunately, shitty people do shitty things. You can let a situation break you or choose to let it help you grow and rise above. The only way to move on from a hurtful situation without bitterness and anger is to understand why you felt what you did and why you no longer NEED to feel it. Over the years, I have realized how precious time and is how so many things such as people, past circumstances, and fear can rob us from blooming. Looking back, people have wronged me. Even when I was in my darkest days and felt incredibly sad, something told me to trust the journey and that meant chasing the little light at the end of the tunnel that was left. Sometimes it's so damn hard to see, but you have to hold on for life to that little bit of hope left. Even if it's a fraction of how you feel... hold on to it. I did and believed in things coming full-circle, because they always do. Maybe not today or tomorrow, but they will. When they do, the light at the end of the tunnel will never have been clear. You just have to keep moving forward until things in the rear view mirror no longer serve you. Live life in full bloom, my dear. Never stop growing.
/